Impresionante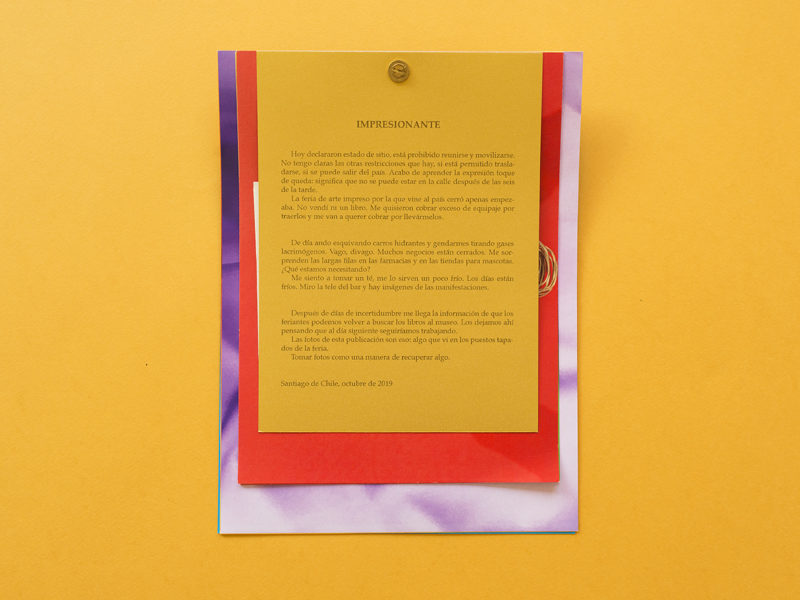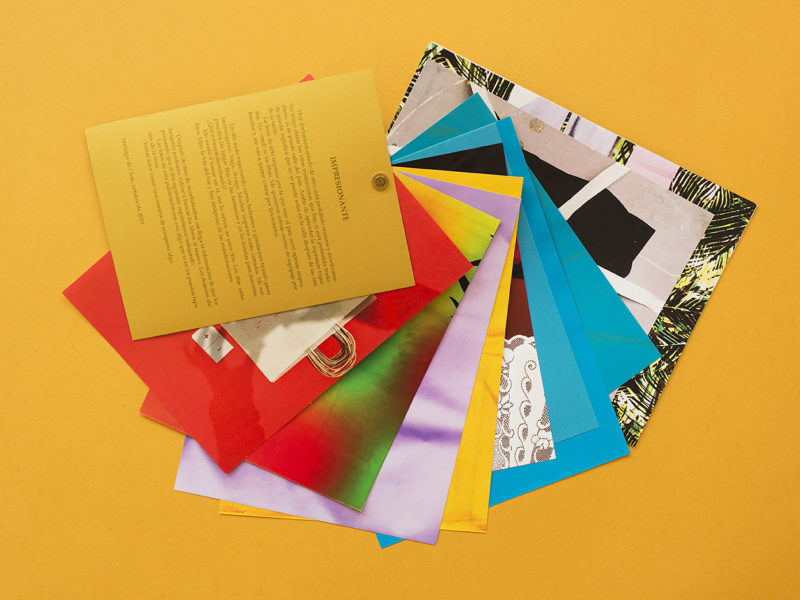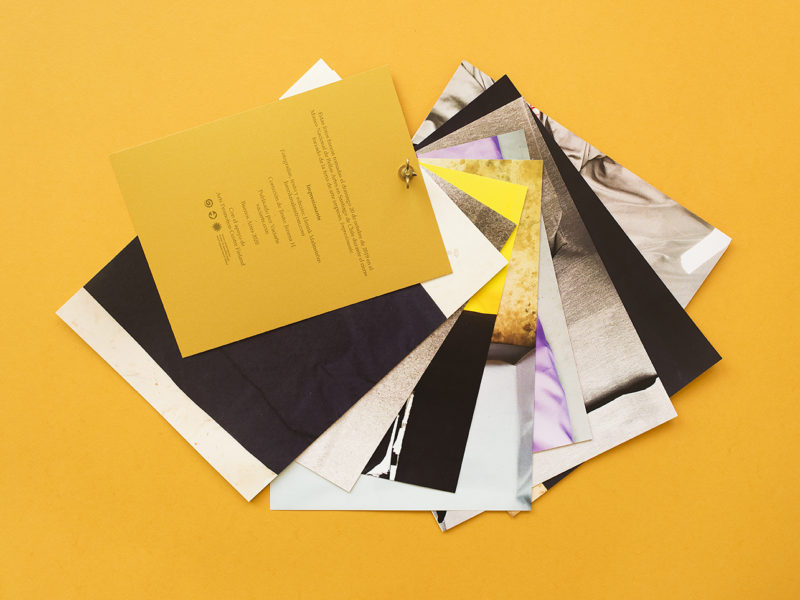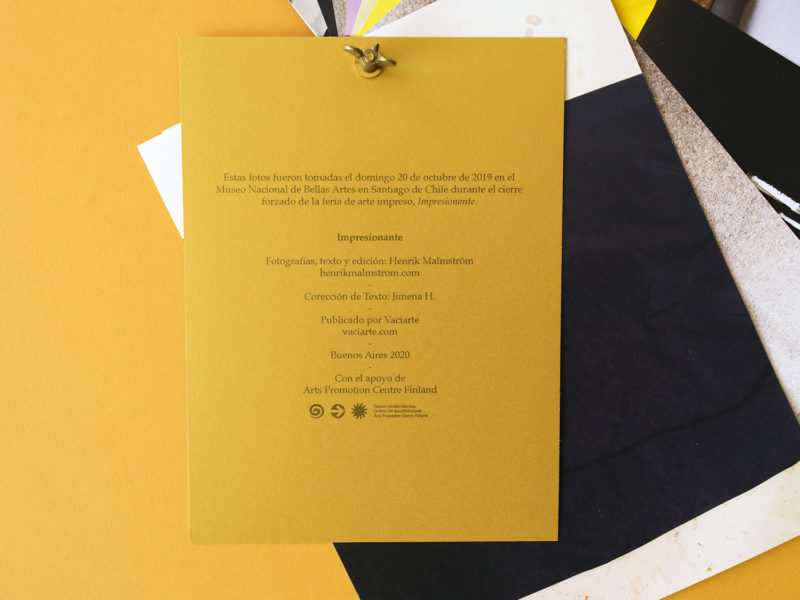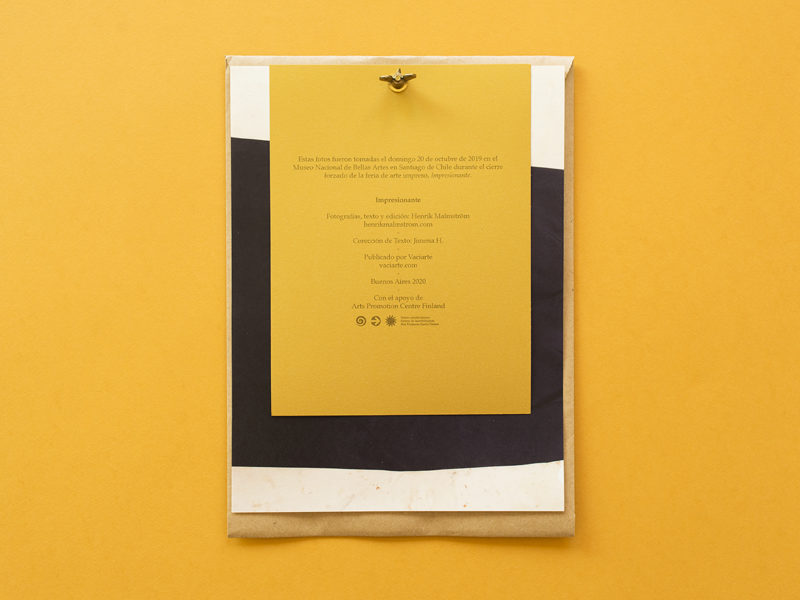 Booklet
Design: Henrik Malmström
Text: Henrik Malmström, untitled preface
Text Correction: Jimena H.
Publisher: Vaciarte, Buenos Aires
Edition: Unlimited
Printing: Cooperativa El Zócalo, Buenos Aires
Binding: Bolt and wing nut
Pagination: 16 sheets / Small images (17 x 22.5 cm) / Large images (19 x 25.5 cm) /
Front and back cover (15 x 20 cm) / Envelope (20 x 27.5 cm)
Illustrations: 18 color images
Photographed: October 2019
Published: May 2020
Order Out of Print
–
Synopsis
Today the government declared a state of siege, it is forbidden to be in groups and to mobilize. I am not clear about the other restrictions that exist. If you're allowed to move around. If you can leave the country. I just learned the expression curfew: it means that you cannot be on the streets after six in the afternoon.
The art print fair for which I came to the country, closed as soon as it had started. I didn't sell one book. The airline wanted to charge me excess baggage for bringing the books over and they will want to charge me for taking them back.
During the day I dodge hydrant cars and armed police shooting tear gas. I wander and roam the streets. Many businesses are closed. I am surprised by the long queues in the pharmacies and pet stores. What are we needing?
I sit down and have a tea, they serve it a little cold. The days are cold. I watch the TV in the bar and there are images of the demonstrations.
After days of uncertainty, I get the information that we artists can go back and get our books from the museum. We left them there thinking that the next day we would continue working.
The photos in this publication are just that: something I saw in the covered booths of the fair.
Taking photos as a way to get something back.
These photos were taken on Sunday, October 20, 2019, at the National Museum of Fine Arts in
Santiago de Chile during the forced closure of the art print fair, Impresionante.
–
Guidelines
These are guidelines for producing the booklet. You can download the PDFs below. For more detailed instructions please contact me.
Booklet: Bolt and wing-nut binding
Envelope: Kraft Paper (20 x 27.5 cm)
Front and back cover: Inkjet print on gold-colored cardstock (250 g/m2)
Flyleafs: Laser print on semi-gloss or ebony-colored copy paper (80 g/m2)
Body matter: Laser print on semi-gloss and ebony-colored copy paper (80 g/m2)
–
The Portable Document Format of this publication can be downloaded, printed, and shared with others as long as the authorship is credited and there is a link back to the website of the author. This publication cannot be altered in any way or used for commercial purposes nor be displayed or exhibited without the consent of the artist.
CC (BY-NC-ND) / Henrik Malmström
–