Failed Applications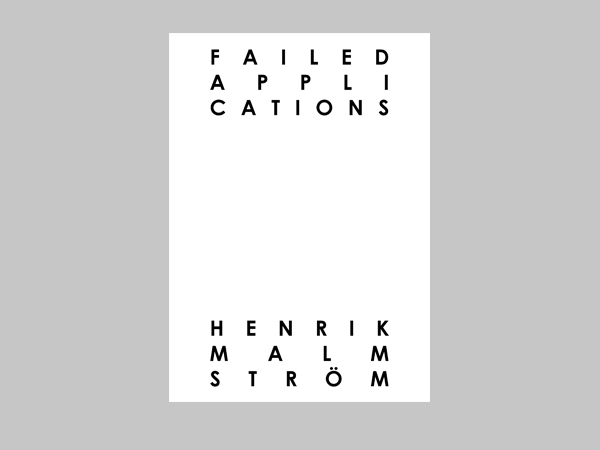 Interactive Portable Document Format
Design:

Henrik Malmström
Text: Henrik Malmström
Edition: Unlimited
Pagination: 248 pages (21 x 29.7 cm)
Failed applications: 193
Failed applications compiled: 2010-2023
First published: January 2020
–
Synopsis
This is a compilation of my failed applications for awards, exhibitions, fairs, festivals, grants, jobs,
residencies, and workshops from 2010 and onwards.
It was first launched in 2020 as a commemoration of my 10 years working, to some extent, as an artist. It includes links to my presented projects, rejection emails, cover letters, websites, and further information.
The applications are first ordered according to the date at which the rejection notification was received. In the case that I never received a rejection message or it has been deleted, the submissions are
located in the year that they were sent.
The submissions are in English, Finnish, German, Spanish and Swedish. Unfortunately, no translation is provided.
All of the applications have also been given a Grade: a subjective viewpoint of my chances in getting a positive response for the application in question. This evaluation is based on statistics, the quality of the submitted proposal and my expectations. The grades are scaled from 4 to 10, whereas 4 is no chance at all.
This Portable Document Format is constantly expanding and will be updated annually, surely with more failed applications.
If you notice any errors or want to read any of my successful applications, please contact me.
Hopefully, you enjoy and can learn from my mistakes.
–
Press
Alejandro León Cannock / Carmen Araujo Arte
–
This Portable Document Format can be downloaded, printed, and shared with others as long as the authorship is credited and there is a link back to the website of the author. This publication cannot be altered in any way or used for commercial purposes nor cannot be displayed or exhibited without the consent of the artist.
CC (BY-NC-ND) / Henrik Malmström
–